Client
Saginaw County Health Department
The Barckholtz Group served (and continues to serve) as a public information support team to help the Saginaw County Health Department pivot and innovate to respond not only to a novel virus but also to every home, school, business, gathering and public place in Saginaw County.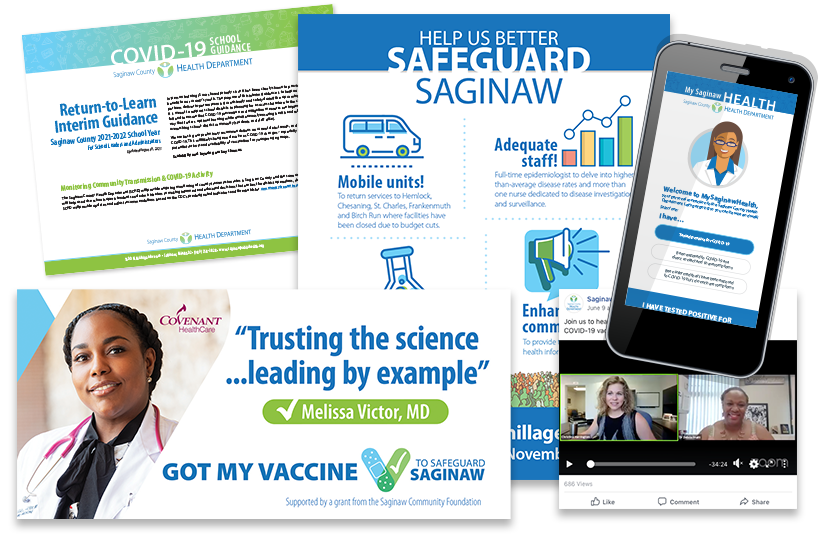 Communicated with local and state media daily with COVID-19 case numbers, vaccination progress, and breaking news related to the pandemic in our community.
Provided educational materials and strategic communications to help pass a millage in just two short months during the pandemic.
Developed a web-based app for self-reporting and contact tracing, as well as COVID-19 vaccination registration and scheduling.
Spearheaded a communications campaigns targeted at our minority communities to measurably reverse racial disparity and vaccine trust issues.
Provided daily and weekly email blasts to VIP/officials, community, superintendent, long-term care facilities, first responders, and health care professionals throughout the duration of the pandemic.
Supported weekly Facebook live events and ongoing social media response support throughout the pandemic.
Provided branded fact sheets, infographics, videos, social media posts, billboards, radio, TV commercials, vehicle graphics.
"The Barckholtz Group is a team of amazingly talented and dedicated communication professionals that have provided the Saginaw County Health Department with literally life saving resources during the COVID-19 pandemic. Melinda and her team worked day in and day out through the trenches to ensure timely, consistent, and accurate public information was provided to businesses, stakeholders, schools, and families throughout COVID-19 response. We have gotten an outpouring of support from these stakeholders on how well we kept everyone updated on changing guidance and this is all thanks to Melinda and her team! SCHD could not have done without them!"